Our co-op is owned and governed by people invested in building community through local food. Co-op ownership supports our thriving, local and organic food system and returns the reward of a healthy community. All are welcome to become co-op owners. All owners receive the following benefits.
Choose to invest $80 one-time or pay quarterly $20 installments
Looking for ways to save more?
Our Co-op Affordability Project (CAP) allows owners to join the co-op for just $10 and save 10% every day.
The Technicalities
The ownership belongs to the person(s) who signs the application form. Spouses, partners, children and other household members are welcome to use the owner number when shopping. Only the signer(s) may exercise the full rights of ownership.
*To withdraw your ownership: Stock Refund Request forms are available at the Customer Service Desk. The co-op will repurchase the shares, subject to the provisions in the Bylaws.
Exclusive monthly owner deals (2023-2024)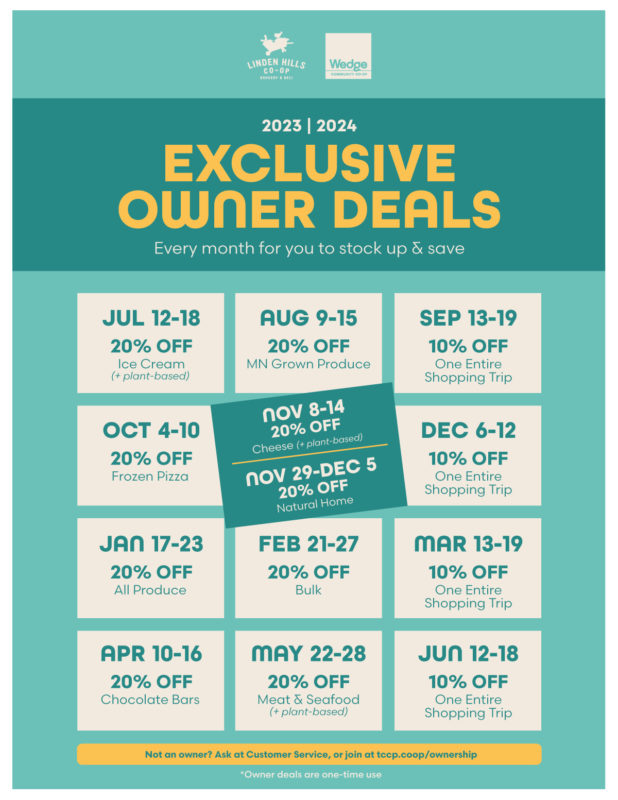 And More:
Patronage refunds if declared by the board
5% senior discount (for owners 65 yrs. and older) every Wednesday
Owners get 10% off when they special order any product by the case
Quarterly 10% off Coupons
Owners get four 10% off coupons per year! Stock up & save, get 10% off one entire shopping trip.
Fall | September  13-19, 2023
Winter | December 6-12, 2023
Spring | March 13-19, 2024
Summer | June 12-18, 2024