The tragic death of George Floyd while in the custody of the Minneapolis Police Department jumpstarted a movement in our communities and around the world to demand justice and end police brutality against the Black community. Along with countless peaceful protests also came rioting and the destruction of businesses and government buildings in our neighborhoods. Since these events occurred, we've witnessed neighbors coming together to clean up their neighborhoods, organizations working to provide food access and supplies to communities who have lost their stores, and artists joining together to give us hope. We're hopeful that together we can rebuild a more just and equitable community for our Black neighbors and everyone else. At the co-op, we are doing what we can to help make that happen.
What we're doing to help:
+ Since neighboring communities have lost their grocery stores, we've been in conversation with key players in the hunger-relief community and the city of Minneapolis to help build long-term solutions for providing food access and fresh groceries where they are needed most.
+ We're partnering with Minnesota Central Kitchen to prepare 1800 fresh nutritious meals a week in our commissary kitchen. These are then distributed through Loaves and Fishes dining sites.
+ We've expanded our staff volunteer program. Traditionally, we've offered paid volunteer time for staff who help at 501c3 organizations. During this time, we're offering payment to staff members who are helping with any community cleanup and rebuilding.
+ We're hosting a July food drive inviting co-op customers to donate food to our local food shelves and distribution sites in our neighborhood. Learn more on page 17.
+ Earlier this year, we partnered with the YWCA on a Micro-aggression and Bias training for all co-op employees. Additional trainings on Equity, Diversity and Inclusion are planned for later this year. We understand that training is an important step, but it is just one small part of an ongoing initiative to do better.
+ We're continuing our food donation programs through Co-op Partners Warehouse and our retail stores. Together, we send out thousands of dollars in unsaleble food to local hunger relief partners each month.
---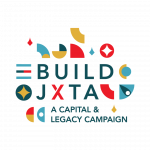 Juxtaposition Arts (JXTA)
is our Change Matters partner for February 2021. For 25 years, they've invested in North Minneapolis youth through their arts education and employment opportunities. They're currently halfway through a Capital & Legacy Campaign to upgrade their facilities and continue their important work.
JXTA is:
+ The only Black-led art and design organization in North Minneapolis;
+ A pillar in the Twin Cities creative economy;
+ Powered by the energy, voice, vision, and talents of artists and youth;
+ Invested in the long-game to build social and
economic justice by training and employing young people; and
+ 25 years strong and rising for the next 25 and beyond.
Youth are already building the abundant and just future they envision. Learn about how you can support their efforts at juxtapositionarts.org.