FOR 19 YEARS OF LEADERSHIP AT CPW!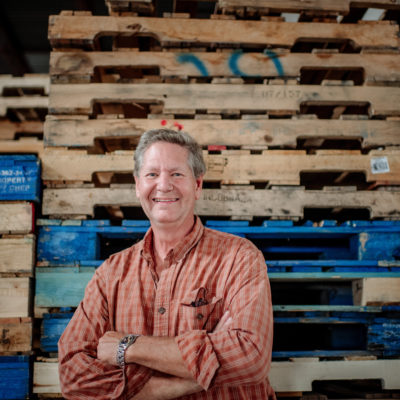 Tom arrived at the warehouse in 2003, already having spent the first 25 years of his career at various Twin Cities produce companies. With his eye towards making CPW a more efficient and profitable business, Tom decided that if there was anything we could do in-house, we would. This included fixing pallet jacks, tending to refrigeration equipment, and plumbing and solving electrical issues. One terrible winter weekend when our electricity and heat went out and pipes in the warehouse froze, Tom spent the night here working tirelessly to thaw the plumbing and strategically relocate food to keep it from freezing.
Even though his job title was Warehouse Director, Tom was always just as likely to be found on a forklift in the warehouse as behind his desk. (Much more likely, actually!) Whether the task at hand was de-icing compressors or unsticking the roller door on a truck, Tom was on top of it!
Perhaps Tom's greatest legacy to CPW was overseeing multiple expansions of the warehouse and guiding construction of a 22,000-cubic-foot freezer, new coolers, new office space and most recently, state-of-the-art banana ripening rooms in 2020. During his time here, CPW's sales grew from $3.6 million and 61 customers (in 2003) to over $30 million and 420 customers across 7 states.
We'll miss Tom's attentive and steadfast guardianship of CPW over the last 19 years. One of Tom's signature phrases is "Best day ever!" We wish him the best retirement ever.