Super Duper Summer Guide for Co-op Kiddos!
12 Things To Do This Summer
Keep the kids busy with FREE family events, hands-on activities, local farm visits and more! Pick up some snacks and sunscreen at the co-op and enjoy a day out with family and friends. Stay on the lookout for your favorite co-op at the Minneapolis farmers markets, Open Streets and Kid Fest!
Music & Movies in the Parks Early June to late August
The Minneapolis Park and Recreation Board hosts free music and movies in our local parks. The MPRB summer concert season fills the air daily with music at five concert venues running Memorial Day through Labor Day. The mobile movie program takes place Monday through Saturday evenings and travels to more than 30 parks throughout the summer. Learn more at HERE.
—- —-  —- —-
Frogtown Farm Community Farm Nights
Tuesday evenings (5–8 p.m.)
946 Minnehaha Ave. W. St. Paul
Come work on the farm with the Frogtown Farm field staff! The farm will provide supplies and guidance for visitors to try farming activities. These sessions are drop-in, suitable for almost all ages. Children under 12 years need to be accompanied by an adult. Be prepared to work hard and get dirty! Sunscreen and bug repellent are recommended. All involved will sign a waiver to participate, and those under 18 years should have the waiver signed by an adult.
—- —-  —- —-
Frogtown Farm Farmers Markets
Saturdays (10 a.m.–1 p.m.)
946 Minnehaha Ave. W., St. Paul
Enjoy entertainment, food and farming demonstrations, and more! The market hosts farmers from Minnesota Food Association's new farmer program, as well as vendors, artists, kids' activities, cooking demonstrations, sampling and backyard gardening. The market accepts EBT, offers double market bucks and has free tokens for youth to do their own shopping.
—- —-  —- —-
Music at Lake Harriet Bandshell
Monday–Tuesday (7:30 p.m.), Thursday–Saturday (7:30 p.m.), Sundays (2 & 5:30 p.m.)
4135 W. Lake Harriet Pkwy, Minneapolis
Come listen to live music next to beautiful Lake Harriet.
—- —-  —- —-
Minneapolis Neighborhood Farmers Markets
We're proud to partner with the Kingfield, Fulton and Linden Hills Farmers Markets. Keep an eye out for our table at the markets while you shop and support local farmers!
Linden Hills Farmers Market
Sundays, May 20 to Oct 28 (9 a.m.–1 p.m.)
2813 West 43rd St.
Kingfield Farmers Market
Sundays, May 20 to Oct 28 (8:30 a.m.–1 p.m.)
4310 Nicollet Ave. S.
Fulton Farmers Market
Saturdays, May 19 to Oct 27 (8:30 a.m.–1 p.m.)
4901 Chowen Ave. S.
—- —-  —- —-
Open Streets Lyndale
Sunday, June 10 (11 a.m.–5 p.m.)
Lyndale Ave. S., 22nd to 54th St.
Meet us out on the street for free yoga, Feral Kombucha samples, and $1 WedgeMade frozen coconut softserve cones! Open Streets is a free event bringing together community groups and local businesses, closing the street to car traffic and opening it up for walking and biking.
—- —-  —- —-
Kid Fest at Lake Harriet Bandshell
Saturday, June 16 (10 a.m.–1 p.m.)
4135 W. Lake Harriet Pkwy, Minneapolis
Come find us at Kid Fest for live music with the Teddy Bear Band and The Bazillions, activities and entertainment with local community groups. This is a fun, free event hosted by Minnesota Parent Magazine.
—- —-  —- —-
Co-op Farm Tour
Saturday, July 14 (10 a.m.–4 p.m.)
Explore your local farms as they open their doors for a day full of fun, learning and discovery brought to you by your local food co-ops. Learn more on page 16.
—- —-  —- —-
Land Stewardship Project Annual Potluck & Cookout
Thursday, July 26
821 E 35th St, Minneapolis
Meet the members and staff of the Land Stewardship Project for a fun family event in their front yard. There will be food, music, a pie raffle and more!
—- —-  —- —-
Open Arms Harvest Festival  
Saturday, September 8 (10 a.m.–1 p.m.)
Hope Farm, 860 Otto Ave. St. Paul
Join Open Arms for a family-friendly event at their urban farm in St. Paul. Enjoy veggie tastings, games, crafts and snacks, and learn how their garden provides fresh, organic produce for their clients. Please RSVP to Jennifer Bliss at jenb@openarmsmn.org.
—- —-  —- —
Did you know? Almost 1,500 kiddos are Co-op Explorers!
Kids age 12 and under are invited to join the Wedge and Linden Hills Co-op Explorers! Co-op Explorers is a FREE program that encourages healthy eating and especially fun visits to the co-op. As an explorer, you receive:
Official member card and fruit and veggie passport
+
Special surprise for your birthday
+
FREE piece of fruit from the Co-op Explorers cart and FREE grass-fed beef stick from the meat counter every time you visit the co-op
+
Invites to fun family events
Summer Reading with the Co-op and Wild Rumpus!
This June and July, co-op kiddos are invited to read along with Wild Rumpus Books. Wild Rumpus created a book list exclusively for our co-op kiddos, ages 3–12, and they'll be at the Wedge Table on June 29th for Story Time!
1. Pick up a reading log at the co-op explorer cart starting June 8.
2. Register on HERE to provide your kiddo's t-shirt size by July 20, 2018.
3. Bring your reading log to Wild Rumpus for 20% OFF books on the list!
4. Read and record your minutes. (It doesn't need to be a book on the list to count).
5. Turn in your reading log at the co-op customer service during July for a FREE co-op kiddo t-shirt!
Join Wild Rumpus for story time at the Wedge Table on June 29 View event
Pumped Up Peanut Butter Banana Sandwiches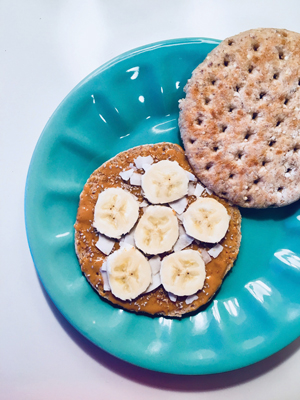 Parents and kids alike will enjoy this tasty recipe by Lauren of Minneapple Eats. It's perfect for picnics or a hearty snack on-the-go. Follow @minneappleeats on Instagram for more delicious and kid-friendly meal ideas and tips!
Ingredients
1 Ozery Bakery One Bun Multi-grain Sandwich Thin
1–2 Tbsp. creamy peanut butter
1 tsp. chia seeds
1 tsp. ground flax
1 Tbsp. dried coconut flakes (found in the bulk section)
1 banana, sliced into quarter-inch medallions
Creative Kiddos
We asked kids to color their own version of The Wonderful World of Minnesota Food and received lots of beautiful creations. Here are some of our favorites!
Artists include: Charlie (age 5); Stella; Emi (age 9); Free Arts Minnesota artists; Nina (age 7, almost 8)