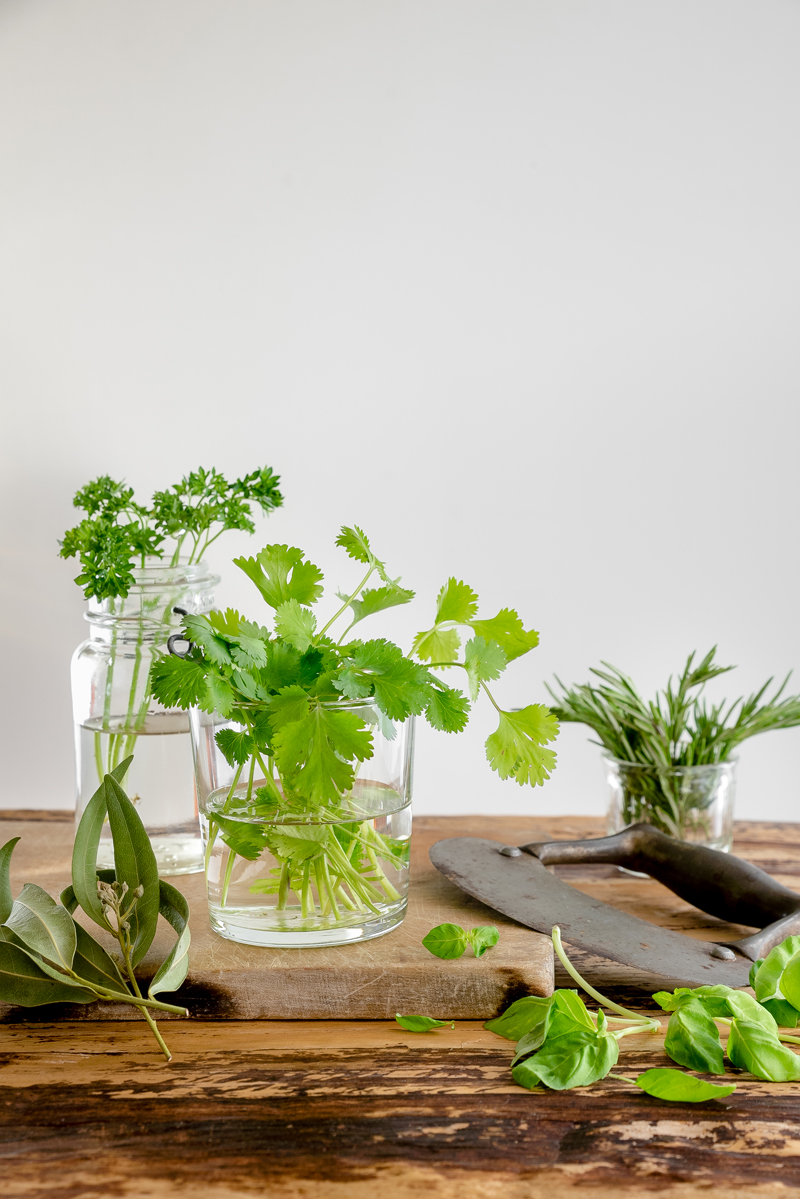 Q: "I love cooking with fresh herbs in the summer, but I always feel like I use just a little and throw the rest away. Do you have any tips for storing or using herbs so I can stop being so wasteful?"
— Hannah, St. Louis Park
A: Great question! There are few things as inspiring as a beautiful bunch of fresh herbs. And few things as disheartening as reaching for them a few days later and finding them all wilted and swampy in the bottom of your produce drawer. But it doesn't have to be that way! If you understand the enemies of freshness, and how to fend them off, you can make your herbs last much longer.
First off, temperature; almost all herbs are best stored in the refrigerator, except basil, which gets damaged by the cold. Secondly, exposure to oxygen can turn herbs brown, so covering them up is key. Lastly, moisture; too much of it and you get slimy, moldy herbs. Not enough and they get dried out and lose flavor. Different herbs have different needs, so the very first thing you want to do is sort them.
Herbs fall into two categories: hard and soft. Soft herbs like basil, parsley, cilantro, chervil, mint, dill and tarragon have soft, tender stems. Hard herbs have woody stems and include rosemary, oregano, marjoram, and thyme.
Soft herbs like to be treated like a bouquet of flowers. Snip the bases of the stems and put them upright in a glass of fresh water, changing the water every day or two if it starts to cloud. Basil should be kept at room temperature, but other soft herbs should be loosely covered with a plastic bag and then placed in the fridge.
Hard herbs on the other hand, should be wrapped in a damp paper towel, then loosely covered with plastic wrap or placed in a ziplock bag before going in the fridge. For a greener alternative, use a damp kitchen towel and an airtight container instead.
These techniques should give you a week or more with your herbs, but then what? If you haven't found good ways to use them fresh (like throwing them into scrambled eggs, frittatas, salads, marinades or pestos), you don't have to throw them away. Herbs on the brink of going bad can go into a pot along with chicken bones, cheese rinds and other stock-making ingredients. Or you can save them for later use:
Freeze herbs by snipping them into small bits, packing the bits into an empty ice cube tray, filling with water and freezing. Pop the finished cubes into a sealed container in the freezer. And then drop frozen cubes into soups and sauces whenever you want some fresh-cut flavor.
Hang them against a sunny windowsill or put them on a baking sheet in a low-temperature oven: bam, you've got dried herbs! Store them in plastic bags or glass vials.
Make herb-infused oils and vinegars. Wash herbs and let dry completely. Slide them into a repurposed glass bottle and fill with olive oil, white-wine vinegar or apple-cider vinegar. Cork or otherwise seal the bottles and store in a cool, dark place for four to six weeks.
Hope that answered your question so you never have to throw away fresh herbs again!
View the Summer 2015 Share PDF
Back to Summer 2015 Share articles