ASSISTANT MANAGER OF THE MEAT & SEAFOOD DEPARTMENT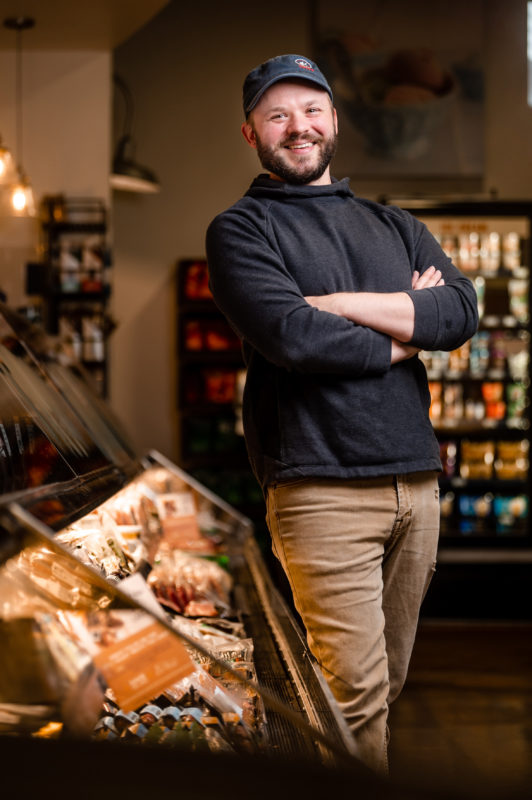 HOW LONG HAVE YOU WORKED AT LINDEN HILLS CO-OP?
I've been at the co-op for 10 years. I started in the Front End at the Upton location and jumped over to Meat & Seafood when the store moved to its current location at 44th & France. My interests in food and cooking along with my obsession for learning trade skills is what drove me to the job.
WHAT ARE YOU MOST PROUD OF IN YOUR TIME AS THE ASSISTANT MANAGER OF THE MEAT & SEAFOOD DEPARTMENT?
I've been able to teach so many people here. The more I learn, the more I can pass along to the next person. I love teaching and sharing my knowledge and experiences. I value learning, and I try to inspire that in others. We have such a skilled, talented and knowledgeable staff. I take a lot of pride in that we have never hired someone with previous meat-cutting experience, and yet have such a great staff.
WHAT ARE YOUR FAVORITE MEATS AND SEAFOOD FOR SUMMER?
This may not be what folks want to hear, but I eat a lot less meat in the summer months. We have a massive garden at home (lawns are stupid—grow your own food instead) and we eat a lot of fresh food from what we can grow. BUT, when I do cook up some good meaty snacks, we have our staples: diner-style smash burgers on the griddle or anything I can fit into a smoker, and with the garden in full swing, we tend to make a LOT of stir fries.
YOU MAKE GUITARS! CAN YOU TELL US MORE ABOUT HOW YOU LEARNED TO DO THAT?
Yes, I do build guitars! It's my original trade. I went to school for it in…2007? G.W. Bush was still president I think (sadly). Man, I'm old. I attended Southeast Technical in Redwing, Minn. for their guitar repair and construction program. I did repairs and built for other companies for a while before I started my own guitar company—Mill City Guitars, LLC.
WHERE CAN WE LEARN MORE ABOUT YOUR GUITAR BUSINESS?
The best way is to email me directly with any inquiries. I'm quick to respond and love to talk shop. My email is: nielsencg@gmail.com