Refresh Your Backyard Bash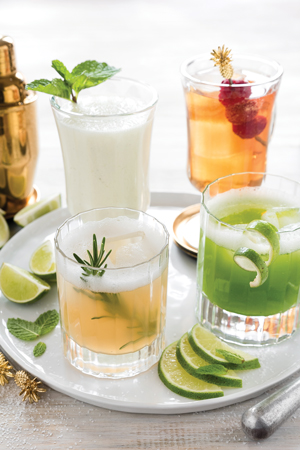 It's summer backyard party time! Invite your friends and fire up the grill with these recipes featuring summer's fresh bounty, made-from-scratch WedgeMade and co-op products, and easy, crowd-pleasing flavors. Now you can spend less time in the kitchen and more time in the great outdoors with cocktail in-hand.
First up, happy hour! These cocktails embody the spirit of summer with fresh produce and simple ingredients.
pollinator
3 oz. rye whiskey
3 oz. berry LaCroix
.25 oz. lime juice
.25 oz. honey simple syrup
fresh berries
Shake ingredients over ice and pour into small glass. Garnish with fresh berries.
———
moon & garden
1 oz. vodka
3 oz. kale, lime and apple juice (to make: juice 1 lime, 11/2 apples, 3 stalks of kale)*
.25 oz. simple syrup
lime twist
Serve over ice, garnish with lime twist.
*Don't have a juicer? Custom order this juice at the Wedge or Wedge Table to go! 
sun salutation
1.5 oz. gin
.25 oz. honey simple syrup
1.5 oz. fresh lemon & ginger juice*
1.5 oz. ginger kombucha
rosemary sprig
Serve over ice, garnish with rosemary.
———
wedge pina colada
By Rodney (read about Rodney on page 5)
4 oz. pineapple juice
6–8 oz. of WedgeMade frozen coconut milk softserve (aka FroCo)**
1/2 cup ice
1–2 oz. rum
Blend to deliciousness!
**Pick up a to-go cup of softserve at the Wedge Table or Wedge juice bar to make drinks at home!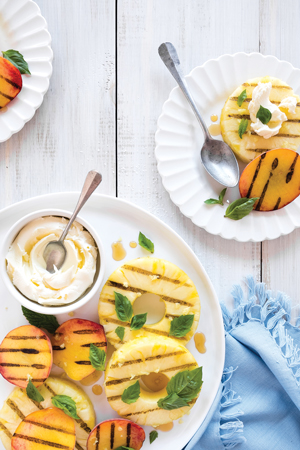 grilled fruit with fresh cheese 
Top off the day with fresh dessert, no oven needed!
For the cheese: 
1 cup fresh ricotta, mascarpone or goat cheese
1 Tbsp. local honey or maple syrup
Optional Add-ins:
1 Tbsp. fresh basil, mint or thyme (finely chopped)
1 tsp. orange or lemon zest, grated
1/2 tsp. grated ginger
For the fruit:
Stone fruits (medium-ripe peaches, plums or apricots), mangoes, fresh figs or pineapple
1 Tbsp. olive oil
To prepare cheese, add honey or maple syrup to cheese. To further impress, add optional add-ins to the cheese before whipping. Whip with fork or electric mixer. Rest in fridge for at least 30 minutes.
Cut stone fruits or figs in half. Remove pit from stone fruits. If using mangoes, cut into ó inch thick slices. Cut pineapple into rings. Brush fruit lightly with olive oil (cut sides only for figs and stone fruits).
Grill fruit (cut side down) over medium-high heat for 2–4 minutes or until softened and slightly charred. Transfer to plate and let cool, cut sides up. Top fruit with dollop of cheese mixture, serve fruit warm or room temperature.
TIP! For a vegan version, serve grilled fruit with coconut yogurt or vegan vanilla ice cream