IN STORE 
TWIN CITIES CO-OP PARTNERS (TCCP)
Board Candidates Needed for our Consolidated Co-op
In 2018, three board members will be elected to the Wedge and Linden Hills Co-op board 'at-large' for the first time. The board seeks candidates with passion for our community, strong leadership skills and a collaborative approach. We welcome all owners in good standing to consider board service. The application deadline is June 29. To learn more visit tccp.coop/about/board-of-directors. If you have further questions about board candidacy, please email our board administrator at Christine.Levin@tccp.coop. A board member will respond to your inquiry.
Wedge & Linden Hills Co-op Annual Meeting
Mark your calendars for Tuesday, October 23 at 6 p.m. for the 2018 Wedge and Linden Hills Co-op Annual Meeting at St. Mary's Greek Orthodox Church.
The 2018 board meetings will be held the third Tuesday of each month through September.
June 19
July 17
August 21
September 18
The 116 acres of organic land at Gardens of Eagan, the farm formerly operated by the Wedge, has sold! Brothers Jacob and Andrew Helling of Twin Organics have purchased the entirety of the farm; they purchased 11 acres of greenhouses and buildings at the farm this past fall. Twin Organics grows certified organic vegetables for Twin Cities restaurants. "We are excited to find a buyer like Twin Organics because of their commitment to organic farming," said Josh Resnik, CEO of TCCP. "They are perfect partners to carry forward the vision we saw for the land when we invested three years in organic certification from 2012 to 2015." Learn more about Jacob, Andrew and Twin Organics in the fall issue of Cultivate.
COMMUNITY NEWS & EVENTS

TWIN CITIES PRIDE FESTIVAL
Saturday, June 23 and Sunday, June 24 at 10 a.m.–6 p.m.
Loring Park
Enjoy this FREE festival with music, food and hundreds of community groups celebrating the LGBTQ+ community! More info HERE
PRIDE PARADE
Sunday, June 24 at 11 a.m. • FREE
Hennepin Ave., North 3rd St. to 16th St.
Look for your Twin Cities co-ops in the parade! More info HERE
Share the love with our
EXCLUSIVE PRIDE KLEAN KANTEEN & DRINK KOOZIES
available at the Wedge and Linden Hills Co-op during June. And stay cool with our sale on LaCroix water: $3.99 for a 12 pack!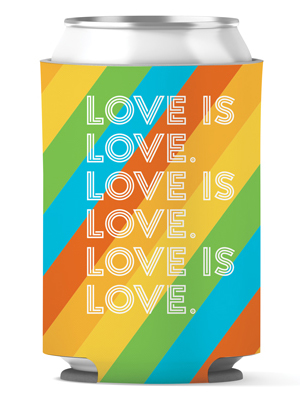 Klean Kanteen 27 oz. Water Bottle $27.99
Koozies…..$1.50
Our co-op is committed to the sixth cooperative principle: cooperation among co-ops. Our commissary kitchen is proud to provide bread and deli items for Valley Natural, Mississippi Market Co-op, Seward Co-op and North Market. All of our retail locations now carry Valley's Own gluten-free baked goods. We're thrilled to be working with local co-ops to provide quality food for our community.
Midwest Food Connection Volunteer Opportunity
Midwest Food Connection, our May Change Matters recipient, brings educational adventures in food, cooking, and gardening to children and their families. And they're looking for your help! If you're interested in connecting kids to their food, consider volunteering to work with students in their school gardens or on a local farm. Visit their website at midwestfoodconnection.org for more information.
Our Partnership with Farmaste Animal Sanctuary
The Wedge Co-op is proud to donate culled produce to Farmaste Animal Sanctuary twice a week. Produce from the Wedge feeds their three pigs Jeka, Violet and Ophelia.
At Farmaste Animal Sanctuary, they believe that all animals have inherent worth, and that farm animals are no exception to that rule. They work to rescue farm animals from cruelty situations, and bring them to their 79-acre farm in Lindstrom, MN. There the animals are allowed to roam in the pastures, and live out their days free from cruelty. Farmaste currently has 10 animals in their care. They are a nonprofit organization that is fully funded through donations. If you are interested in visiting, volunteering or donating, check out www.farmaste.org.
Join them for a grand opening celebration on Saturday, June 9. Free farm tours take place every Saturday throughout the summer at 11 a.m. and 3 p.m. and Tuesdays at 11 a.m.
Wedge Co-op Attends MOSES Conference
The Midwest Organic and Sustainable Education Service (MOSES) Conference is an annual winter event that brings together organic farmers, vendors and buyers for workshops and education. Wedge produce manager Nathan and buyers Char Lee and Jamie attended this year. From Char Lee, "It was so awesome and beneficial to put faces to the names and voices of our produce growers, and learn about the passion behind their products!"