By Leigh McCarren, Ownership & Outreach Coordinator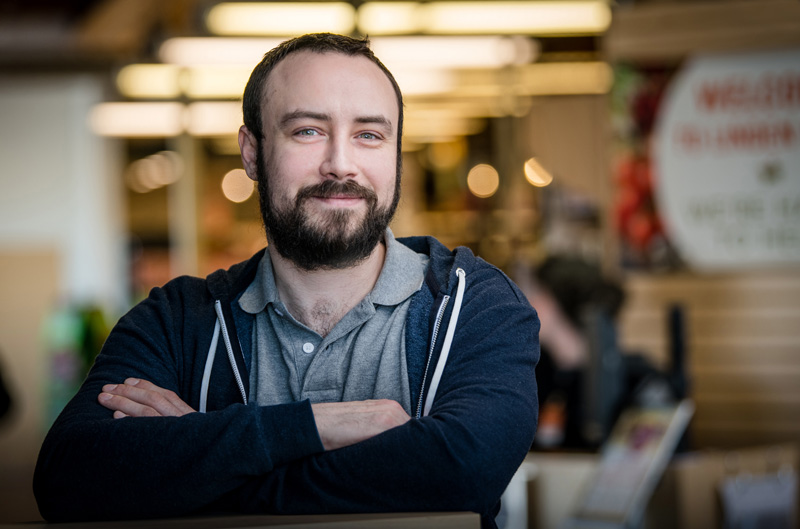 What brought you to the co-op?
I've always aimed to work for places that are less profit-driven and care about giving back to the community. I was a customer of Linden Hills before I was an employee and I loved the neighborhood feel and personal customer service the employees provide.
You started in the Grocery department. Why did you decide to move to the Front End?
I see Twin Cities Co-op Partners as a long-term career for me, so when a job in management opened in the Front End, I jumped at the chance. As someone who considers himself a "people person" the Front End seemed like a perfect fit.
I love the Change Matters program. I'm proud to work for a store that supports small local farmers and companies that are environmentally conscious. I also really enjoy interacting with all the wonderful staff here who always put me in a good mood.
What Change Matters group are you most excited to support?
I was excited to raise funds for TC Food Justice because food waste is one of those things that keeps me up at night. The U.S. wastes 30–40% of the food supply while 16 million American children struggle with hunger every year. I think TC Food Justice is a really innovative program that can help bridge that gap and I'm happy we had a chance to support them.
How do you spend your time outside of work?
I'm a musician. I went to school for audio engineering and work as an audio editor for the premier hip hop podcast The Cipher. We've had some notable celebrity guests like Jonah Hill, Johnny Rotten and Bobby Brown but mostly focus on underground and old-school artists. Last summer, I got a chance to record interviews backstage at the Sound Set festival and was able to meet a lot of my rap idols.