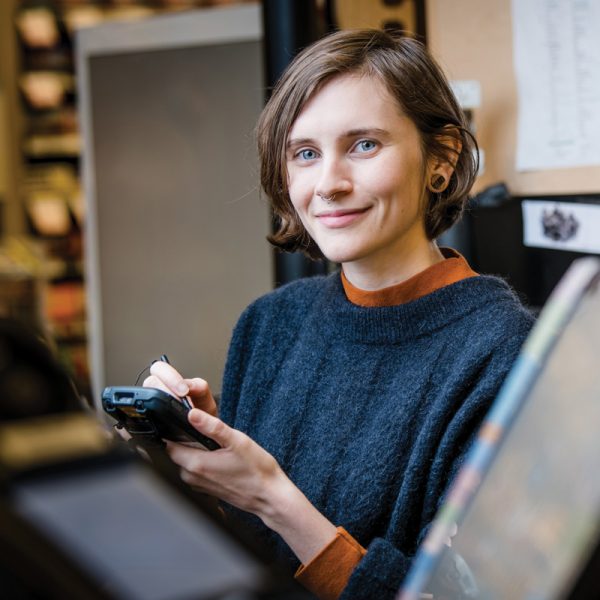 FIVE QUESTIONS FOR LINDEN HILLS POINT-OF-SALE & SCANNING COORDINATOR EMILY ANDERSON
Q: What brought you to Linden Hills Co-op?
A: I went to school for printmaking, so after leaving college I had to gure out what I could do to make
a living while working on creative projects. Working somewhere I felt had good ethics alongside a great group of coworkers was really important to me, which is what directed me to see what was available in the co-op scene. I had been checking out open positions at co-ops around the Twin Cities when I got an interview to work in customer service at Linden Hills Co-op. That was in 2013, and I've been here ever since.
Q: What is your favorite part about your job?
A: I get to work with a lot of different people throughout the organization on all sorts of projects, so that really helps me feel connected to my work. I like delving into technical problem solving. Finding solutions to complicated projects that directly (and discreetly) impact the in-store experience of customers and employees is a large part of what brings me back to work every day.
Q: What do you like to do when you're not at work?
A: I like to stay busy with lots of creative projects. Right now I'm rehabbing a set of mid-century dining chairs I got from an antiques show. I've been experimenting with watercolor and gouache (an opaque watercolor paint) screen prints and am also slowly growing a personal comic series into a graphic novel. Lately I've been taking lots of pictures of my cats sleeping.
Q: How has the consolidation changed your job?
A: Quite a lot! Although we are consolidated on paper, we still have a lot of work ahead of us to consolidate back-end operations. A lot of my working hours are devoted to guring out how to integrate our systems and data, collaborating with our Linden Hills team as well as forming stronger partnerships with folks at the Wedge. We in IT are in the process of ironing out some pretty impactful behind-the-scenes decisions that will lead to greater integration and cooperation.
Q: Do you have any fun scanning facts to share?
A: Since November, we've brought 966 new products into the store. This included A LOT of seasonal gift items (think hundreds of different pairs of socks). Overall, we have about 55,000 items in our POS system, brought in throughout the life of the co-op.
Read Cultivate Spring 2018 articles