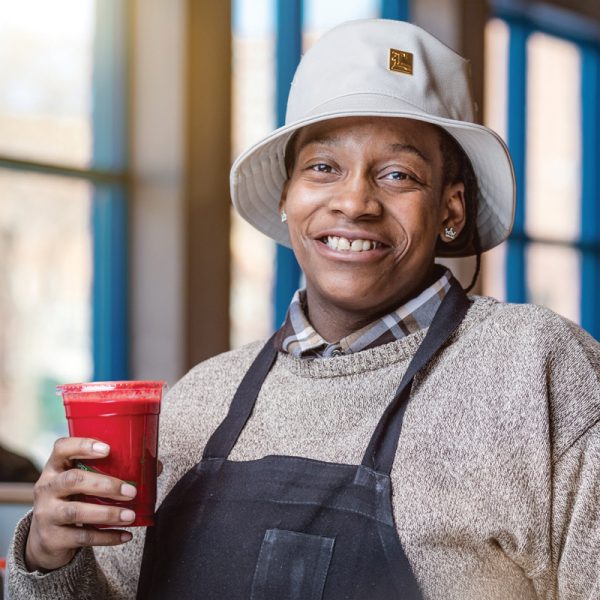 FIVE QUESTIONS FOR WEDGE DELI COUNTER SHIFT LEAD CHARITY PAYE
Q: What brought you to the Wedge?
A: A close friend recommended that I apply at the Wedge after having a talk about what we believe a co-op should stand for. I wanted an opportunity to connect with the community and advocate diversity at the co-op.
Q: What's your favorite part of your job?
A: I love meeting people and interacting with customers and owners. The customers are what keep me working at the Wedge; it's where I make the closest, most positive relationships.
Q: What are your favorite items in the Wedge deli and juice bar?
A: I am ginger crazy! In the juice bar, Clay's Concoction* and Cowabunga are my favorite. I also like the smoked turkey and curtido sandwich.
Q: How did you get the nickname "Wedge Bae"?
A: Wedge Bae started on the Wedge and Linden Hills Co-op Facebook page after we posted a picture of me in the juice bar. A lot of customers and coworkers liked it, so I stuck with it.
Q: What is something most customers don't know about you?
A: I am an open book! I have different relationships with different customers. Some customers might not know that I am a rapper, performing under the name Purple Queen. I released a new single called "Giants" in February (listen on soundcloud HERE). Look for my first music video coming soon!
*Make Clay's Concoction juice at home!  2 large carrots, apple, 1 small beet, 1 oz. lemon juice and 1 oz. fresh ginger
Read Cultivate Spring 2018 articles