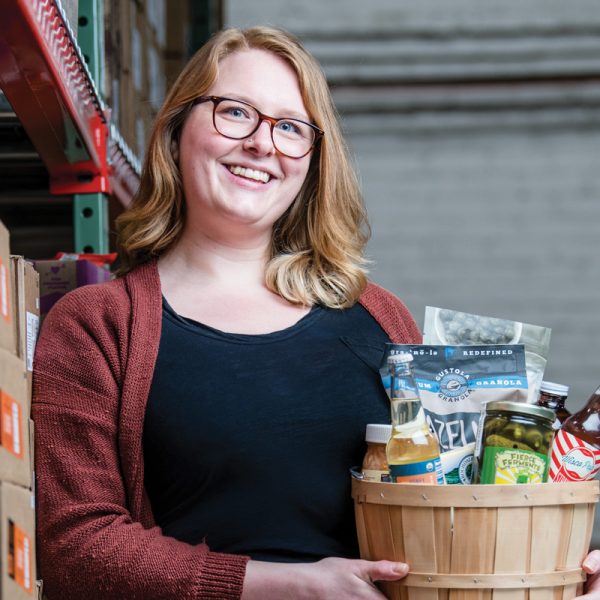 SIX QUESTIONS FOR CO-OP PARTNERS WAREHOUSE LOCAL FOODS BUYER AMBER WESTLEY
Co-op Partners Warehouse (CPW) is a distributor of organic produce, dairy and grocery, servicing retail co-ops, natural food stores and restaurants across seven states.
Q: What brought you to CPW and how long have you been there?
A: I've been with Co-op Partners for nine months, and part of the Wedge Co-op for six years. CPW is part of our Twin Cities Co-op Partners network — it offers learning opportunities for the growing organic and local food scene and shows how regional and local distribution are essential to our co-ops.
Q: How did you become the Local Foods Buyer?
A: I was part of the Wedge grocery team for five years and, in true co-op spirit, I fell in love with food! I began buying local honey and maple syrup from farms around Minnesota and Wisconsin — learning more about local food producers and the food systems they are a part of. My support for local foods expanded along with my growing concerns about the environmental impacts of food traveling thousands of miles away from its home. I wanted to become part of the solution for supporting local foods and Co-op Partners has been a wonderful fit.
Q: What is your favorite part of your job?
A: My favorite part is being able to help small producers make their food dreams a reality. Building partnerships with these producers and helping to get good foods into people's hands is incredibly rewarding!
Q: How do you learn about new local vendors?
A: We're lucky here in the Twin Cities — we are surrounded by folks producing delicious, unique foods! From farmers markets to social media, to word of mouth from current vendors — I get many chances to be introduced to new products and producers.
Q: How do you manage supply and consistency with small producers distributing to CPW?
A: It takes a lot of work on both ends to make a shelf-ready, stand-out product! Keeping things in check like clean ingredients, concise packaging, and delivery schedules is no small task. Patience is key. A small producer may not have the equipment or production space to produce large quantities at once, but that's what makes it so special!
Q: What local businesses got their start in the co-ops?
A: Products you've probably seen around town — Punk Rawk Labs, K'ul Chocolate, Superior Switchel, Chanticlear Pizza, Bliss Granola — all started in Twin Cities co-ops and now have their products across the Midwest!
CPW By the Numbers
135 Local Farm & Producer Partners • 48% Local Producers • 420 Customers • 81% of Sales to Co-ops & Natural Food Retailers
Read Cultivate Spring 2018 articles