By Rick Christianson, Co-op Partners Warehouse Produce Buyer
Farming has always been a difficult endeavor, but with the exception of the Dust Bowl years of the 1930s, there may never have been a time where weather-related issues have put more strain on the food supply system. Considering the likely trajectory of climate change, agriculture sits right in the bullseye of potentially devastating effects.
There is no way that we can cover all the issues surrounding climate change and agriculture in a short article like this. We can only hope to touch on a few of the areas of the issue and give some examples of what this means to our farm partners and our food supply in diverse growing areas. Think of this article as our attempt to skip a flat stone across a not-so-smooth ocean of information.
Climate change has many faces. Regionally, we have been seeing increasingly erratic rain patterns that often come at the worst possible time for farms—and stay for days or weeks on end. Though drought hasn't been as noticeable in this area of late, periods of dry weather are still common.
Out west and south, the reverse is the norm. The dry periods have been very long. That gave rise to the devastating wild-fire season that plagued much of California last summer. For weeks on end, the temperatures were way above normal, the air was smoky (and unhealthy to breathe), and the sky was so choked with smoke and haze that the sun rarely broke through. This had a huge effect on the plants and orchards on farms throughout the state, and these conditions reached well up the coast to Oregon and Washington.
---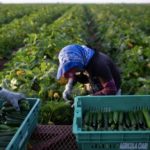 Covilli is a forward-thinking Fair Trade organic grower whose farm is based in the Empalme valley of Sonora, Mexico. Their beautiful beans, squash, tomatoes, chile peppers and other products grace the shelves of the co-ops much of the year. Many of their ranches have been experiencing wild extremes in weather…heat, cold, long periods of rain. They have needed to be creative in adapting to the changes.
---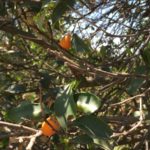 Beck Grove is a gorgeous biodynamic farm that encompasses a 33-acre hill near Fallbrook, Calif., in northern San Diego County. They grow persimmon, kumquat, and varietal citrus. Last year, 100-degree temperatures raged for weeks in an area that rarely sees highs above 80. This caused their trees to go dormant instead of focusing on their usual seasonal reproductive activities (production of fruit). A lot of the fruit was stunted in size or dropped off the trees altogether. In the following months, their persimmon season was cut short and they were able to offer less varietal citrus.
---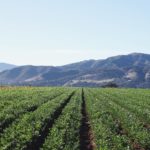 Fresh Venture is a family-run vegetable farm on the central coast region in California. Unlike other California growing areas, this region's "normal" climate is such that they can usually produce veggies year-round. In the last two years, they have dealt with both drought and flood conditions. To help adapt to the changing weather, they have diversified both their crops and their locations, enabling them to plant crops according to the conditions most favorable between the two. This helps to eliminate the dangers of having "all their eggs in one basket."
---
Fruit Fairy grows citrus, peaches and nectarines for Co-op Partners Warehouse. Last year's heat wave and smoky period had a negative effect on this winter's citrus crop. Volume and size are down, and the fruit isn't as sweet as in past years. One big climate change issue for the soft-fruit growers is that they have been seeing fewer and fewer "chill hours"—times when the temps fall into the low 40s or below in the winter at ranches. The trees need a certain number of chill hours to go dormant and "rest up" for the coming season—it is a critical part of their life cycle.
---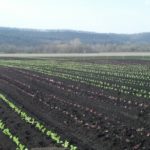 Featherstone Fruits and Vegetables is located near Rushford in southeast Minnesota. Featherstone has experienced many effects from climate change, and they have been actively altering their farming systems to better address what they expect will be the "new non-norm." Featherstone Farmer Jack makes the point that the acute negatives (torrential rains) are one problem, but even worse are the prolonged wet spells mid-season wherein fields never dry out. Workers can't do the day-to-day work, and the moisture increases the risk of plant disease and pathogen development
---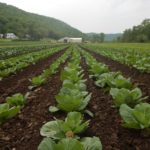 Harmony Valley is in the hilly region west of Viroqua, Wisc., and is one of the mainstays of organic agriculture in the Midwest. The Harmony Valley farmers are some of the most diligent, knowledgeable, and creative forces in the organic community. In response to the changing conditions, they have made several changes on their farm, including increased cover cropping and building of berms and mulching to help reduce erosion and control water runoff. These changes involve increased costs, which affects what a farm needs to charge for their products. This, of course, results in higher prices on the store shelves.
---
As you can see, climate change presents a daunting challenge to our farming partners near and far. It affects what we see on the shelves of the co-ops, both in quality and sometimes in price. There likely will be tough times ahead. CPW and the co-ops will remain committed to small farms and be as understanding and helpful as possible as farmers adapt to the changing conditions ahead. Our farmers are intelligent, creative and resourceful. They understand that their work is vital and they love it. We are confident that there are no better partners as we move forward into an uncertain future.