Our floral buyer Jaime's plant guide for your home
About the Expert
Jaime has been the floral buyer and plant sale manager at the Wedge for seven years. She attended the Institute of Floristry at Koehler and Dramn in 2016. In her spare time, she operates a wedding floral business with her best friend. She refers to this as a "hobby business," since they both have full-time jobs. Jaime has done the flowers for many weddings and some freelance work for Minnesota florist Ashley Fox at the 2018 Super Bowl.
Where do our plants come from?
Our plants come from multiple distributors. My favorite company we work with is Len Busch, located in Plymouth, MN. Their business started in the late 1800's, when their great grandfather grew vegetables on Lyndale Avenue in Minneapolis. Over a hundred years later, the Busch family provides us with locally-grown flowers and plants including tulips, snap dragons, spray roses, daffodils, potted blooming plants, poinsettias and bulb gardens.
As the floral buyer for the Wedge and Linden Hills, I am always on the hunt for new interesting plants and flowers. I get a lot of good recommendations from my fellow coworker Char Lee, a huge plant enthusiasts.
Our Best Sellers
SUCCULENTS –  SPIDER PLANT – POTHOS –  PHILODENDRON – SNAKE PLANT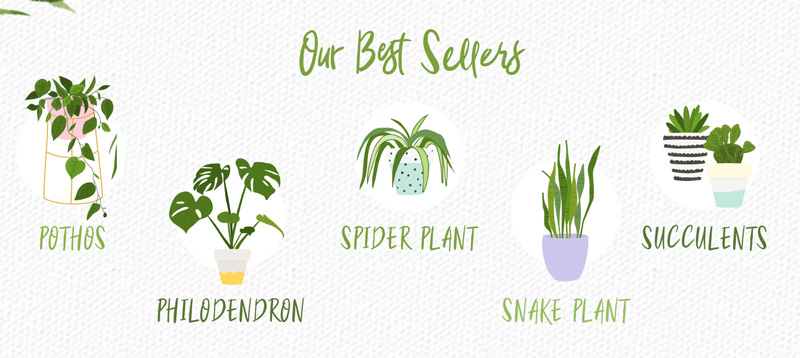 How to Take Care of your Houseplant
The first essential step in becoming a successful plant parent is researching all the new plants you bring home. You can find the scientific or common name on your plant's container.
There are a few simple rules that can be applied to most house plants.
1. No dramatic changes in temperature. The best location for a house plant is away from drafty windows and vents.
2. Don't overwater or underwater. Always check online if you are unsure how much water your plant needs.
3. Never use a pot without drainage holes. The roots of most plants will mold if left in standing water. Drainage holes prevent this from happening.
4. Only repot plants in the spring unless specific to your plant. Never repot a plant into a smaller container or one a lot larger. Some plants thrive in a root bound container, so do your research.
5. Different plants' sunlight needs vary greatly.