Growing Leaders with Local Food
In the Twin Cities, our local food scene can't be beat. Locally-grown food nourishes our bodies and our lives. It's the inspiration behind these three youth organizations doing incredible work in our communities. From farming, to teaching, to tasting, to advocacy work, these organizations are growing young leaders with a love of healthy, local food.
Youth Farm
In 1995, Youth Farm founders David Brant and Karen Lehman began an experiment to engage ten curious youth in the Lyndale neighborhood in a 10-week summer program. They started out with part time staff, working together with the youth to plant, grow, weed, harvest and sell urban-grown food at a standalone market in Uptown. Since then, Youth Farm has evolved into a robust youth organization, engaging over 700 youth ages 9–24 in five Twin Cities neighborhoods in year-round youth development programming and leadership training.
Youth Farm utilizes food as a catalyst for social change, for community engagement, for leadership development. They believe food is a tool to change the world. They farm to educate and train through gardens and greenhouses. They cultivate leadership through year-round programming focused on planting, growing, preparing and distributing the food they grow. But ultimately, they are about growing leaders.
Over the past 23 years, Youth Farm has worked with well over 7,000 youth, grown and distributed tens of thousands of pounds of local produce to Youth Farmers and their families, and provided key leadership on a plethora of important issues, from Food Council formations to youth development tracking tools. However, they are most proud of the amazing leaders that continue to grow and develop within their progressive programming model and the impact they bring to their peers, their family, and themselves.
One of those awesome young leaders is Antonio. He recently spoke at their "Taste of the Farm" Fundraising Dinner in Frogtown about what Youth Farm means to him and his family. "Youth Farm is about so much more than just [the individual youth]. We are a diverse community made up of kids, teenagers, parents, farmers, athletes, musicians, cooks…all with a common goal, creating a place where young people can go to feel safe, have fun, build close friendships and grow. This is what sets Youth Farm apart from other programs."
Antonio is just one of hundreds of current Youth Farmers across Minneapolis and St. Paul making a true difference in their community through the food they grow, the meals they cook, and the leadership they provide on a day to day basis.
Learn more about Youth Farm by visiting their website, youthfarmmn.org, or find them on Facebook, Instagram and Twitter.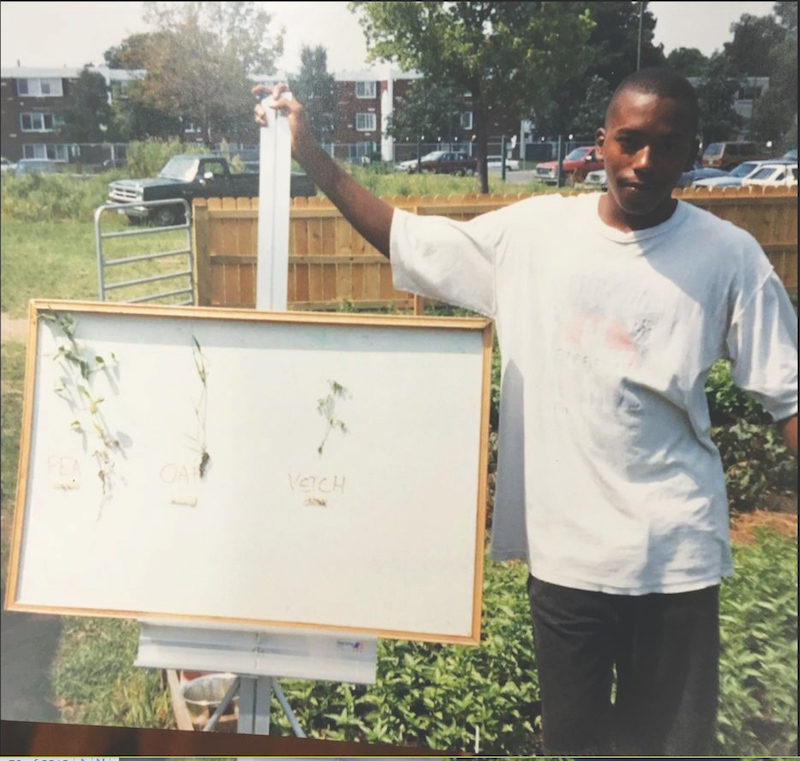 Gil, assistant front end manager at the Wedge, got his start in local food with Youth Farm over 20 years ago when the organization was just beginning. He's now been at the Wedge Co-op for 12 years, and still remembers Youth Farm fondly for the impact it had on his life as a young person and into adulthood.
"I first heard about Youth Farm during a presentation given by Youth Farm founder David Brant at North High School. During my first year with Youth Farm I was a youth worker and learned how to grow, harvest, and sell vegetables. In my second year, I became a youth supervisor, which involved teaching other youth farmers what I had learned. In this role, I learned skills such as leadership, customer service and training, just to name a few. When a job in the front end opened at the Wedge, I was encouraged to apply by Youth Farm cofounder Karen Lehman. Both David and Karen played a crucial role in my youth and still as an adult."
Appetite for Change (AFC)
Appetite For Change (AFC) uses food as a tool to build health, wealth and social change in North Minneapolis. AFC's programs and services are built directly on the needs and interests expressed by community members. Founders Michelle Horovitz, Latasha Powell and Princess Titus share a commitment to AFC's community-driven organizational model. Together they envision Appetite For Change as the catalyst for a North Minneapolis movement toward racial, economic and health equity.
Since 2011, AFC has grown from a start-up organization with an operating budget of less than $25,000 to a $1.8 million organization that employs 45 staff (33 full-time employees), with over 50 youth participating in a paid employment training program.
AFC's programs and social enterprises include urban agriculture, community cooking workshops, Breaking Bread Café & Catering, local food business incubation, youth employment and training and the Good Food Movement leading food justice policy and advocacy focused on leadership development, outreach and direct action.
Appetite for Change believes social enterprise and food systems development will create jobs, build strong communities, and reduce generational poverty. Their work gives every young person in North Minneapolis the opportunity to thrive and access food and quality jobs regardless of race, class or neighborhood. As food brings people in North Minneapolis together, family and community relationships are strengthened and young people are motivated to succeed.
Learn more about Appetite for Change by visiting their website, appetiteforchangemn.org, or find them on Facebook, Instagram and Twitter.
Change Matters!  Appetite for Change is our Change Matters group for June. Support them by rounding up at the register at the Wedge, Linden Hills or Wedge Table.
Minneapolis Public Schools True Food Taste Tests
The Wedge and Linden Hills Co-op is proud to partner with Minneapolis Public Schools (MPS) Culinary & Wellness Services to host True Food Tastes Tests in local schools since 2014.
True Food Taste Tests take place in 45 MPS elementary and middle schools across the city, three times each school year during lunch. These taste tests are designed to expose students to new, flavorful recipes and encourage them to think critically about their food. Many of the ingredients for the taste test are sourced from local growers and producers. Unlike other taste tests, the emphasis isn't on asking students whether they like the food, but rather, asking them to describe it. In doing so, the taste tests provide a fun, encouraging, and educational environment for students to explore new foods.
Over the years, MPS students have tried everything from UnBEETable hummus (beet hummus) and Green Lava Salad (kale apple salad) to Olé Frijole Dip (southwest pinto dip). In February, MPS served Moroccan Freekeh, inspired by a recipe from Wedge Catering chef Nick.
Each year, dozens of student helpers, staff, parents, True Food Chef Council members, and community volunteers come together in MPS lunchrooms to hand out nearly 50,000 samples to 20,000 students. Interested in learning more or getting involved? Visit nutritionservices.mpls.k12.mn.us/tftt.