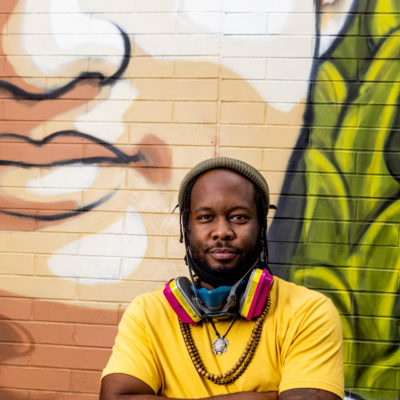 Muralist Profile: Reggie LeFlore
The new mural at the Wedge Co-op was painted by talented Twin Cities muralist, Reggie LeFlore. We sat down with Reggie to learn more about him and his recent works.
How long have you been painting murals in the Twin Cities?
I've been painting murals and taking part in public art projects in the Twin Cities since 2016, starting with Intermedia Arts and Hennepin Theatre Trust.
Where can we find your murals around town?
I have quite a few spread out throughout the Twin Cities – Two in Uptown (Black Lives Matter, All Year Round, and a commission done inside the Moxy Hotel), one that's depicting a group of Twin Cities kids over on 16th and Lake, a mural in St Paul (The Afrocentric Spectrum), and two recently finished murals in downtown Minneapolis (an X Games mural) and in Bloomington (a collaborative mural done with Ua Si Creative).
Does your art typically have specific messages or themes?
The central theme involves the references of "everyday people". I try to tell a story about the various cultures and identities of the people I paint, which usually ends up becoming a collaborative process as I learn more about the folks I'm depicting.
What's your favorite mural you've done?
My recent faves have been with the X Games and Ua Si Creative projects, but I really enjoyed the reception behind The Afrocentric Spectrum. The concept honors the vast spectrum of Blackness told through the stories of two characters – a demigoddess whose Black history had been wiped away and a mortal man who's essentially a vessel of Black knowledge in modern times. It was painted in 2020, a time that was incredibly challenging for Black folks, so it felt good to paint something positive and not so triggering.
Why were you interested in doing the mural project at the Wedge?
This project falls in line with the types of work I want to take part in, which involves using my talents to uplift others' stories through large-scale portraits. This one is special because it depicts a young banana farmer who realizes his overall impact among the world, as well as his surroundings and the folks that came before him. There's a lot to learn from Johnny's experiences.
Learn more about Reggie and his work on his website, ral86.com.