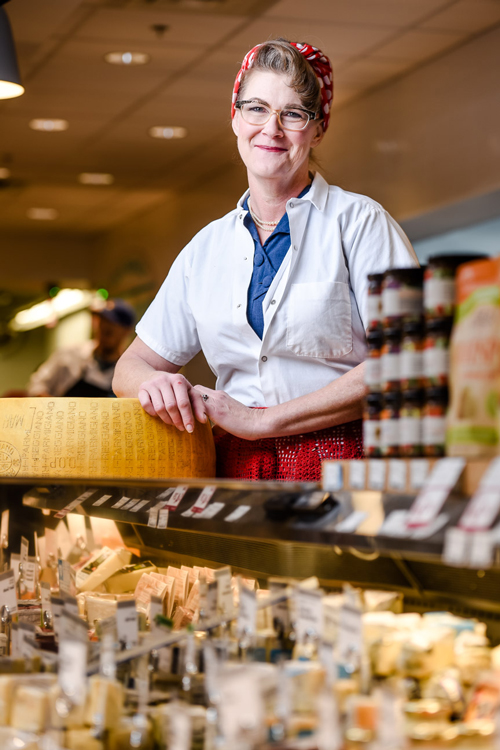 When she's not gardening, thrift-store bargain-hunting, or camping with her husband and their dog Clementine, Lori Cyrus-Satter is the head, heart, and the brains behind the Wedge's newly expanded Cheese department. We sat her down and asked some of the most burning questions we had for our favorite cheese connoisseur in chief.
Q: How does one go about becoming a cheesemonger?
A: Well, you can go to school for it, or you can happen on it in a more roundabout way, like I did. I got my first cheese job back in 1999, at Surdyk's in Northeast [Minneapolis]. I was doing home healthcare at the time and was trying to save up some extra cash for a trip I was planning to Australia. Luckily Surdyk's didn't require any previous experience working with cheese, so I applied and got the job. I ended up really liking it and stayed for three and half years. By then I was ready to have just one full-time job, but I wasn't sure if cheese was a viable career path. It turned out it was! The day after I put my resumé together, I got a call from the former cheese shop manager who was friends with someone high up at Kowalski's. They were expanding and looking for cheese-savvy people to run the department at their new store on Lyndale. I got the job and stayed there for five and a half years, eventually transferring to the Grand Avenue store. From there, I moved to Seward Co-op and eventually came over to the Wedge. It's been a long strange trip, but I'm glad I made it here!
Q: How have you left your mark on the Wedge's Cheese department?
A: The biggest change was something I took on immediately after getting the position. I took a hard look at lot of the items we carried at the time and changed them out for products that don't contain any antibiotics or synthetic growth hormones. I don't think shoppers at a co-op should have to even worry about that! It's also meant getting to champion really amazing local cheesemakers that I find through my distributors, through reading (yes, there is cheese literature out there!), and through attending the American Cheese Society Conference every year. I adore the Alemar Bent River Camembert, Sartori Mont Amore and Lone Grazer String Cheese. Seriously, I had no idea string cheese could taste so good! I think we're really lucky to be surrounded by so many talented producers in the Midwest.
Q: Seasonality is something we talk about a lot at the Wedge. Do types of cheese have seasons?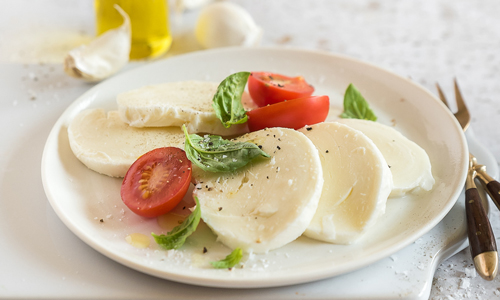 A: Yes, definitely! Not only are some more popular in various seasons, but our Meadowkaas Gouda for instance is make from only milk provided from cows that grazed on the first spring grasses. They make the cheese in spring, and it gets to us in summer, so you have to really keep an eye out so you don't miss it. Summer is also when I pull fresh mozzarella, which is one of my favorite parts of the job. There's also Uplands Farm's Rush Creek Reserve, which is made from milk provided by cows who pasture graze on summer grasses. We preorder it, so they know how much to make, and send it to us right before Thanksgiving. It's probably not something people think about, but what cows and goats and sheep eat has a lot to do with how their milk tastes. So absolutely the seasons impact the flavor and availability of cheeses.
Q: The last few months have seen some big changes to the Cheese department at the Wedge, how has the renovation impacted your work?
A: Well, I just love our new digs! The expanded case is so beautiful and fun to stock. It's so amazing to have a space now to be able to talk with our guests— making recommendations, giving out samples, getting feedback. It really helps me get a feel for what people want and are excited about.
Q: What's the most-asked question you get from customers?
A: "Where is the cream cheese?"
Q: What's something most customers don't know about you?
A: The bouquets on our cheese case this summer were grown and arranged by me!
Back to the Winter Share articles