Annual Owner Meeting & Local Fest 2022
October 12, 2022
5:30 pm -
8:00 pm
Free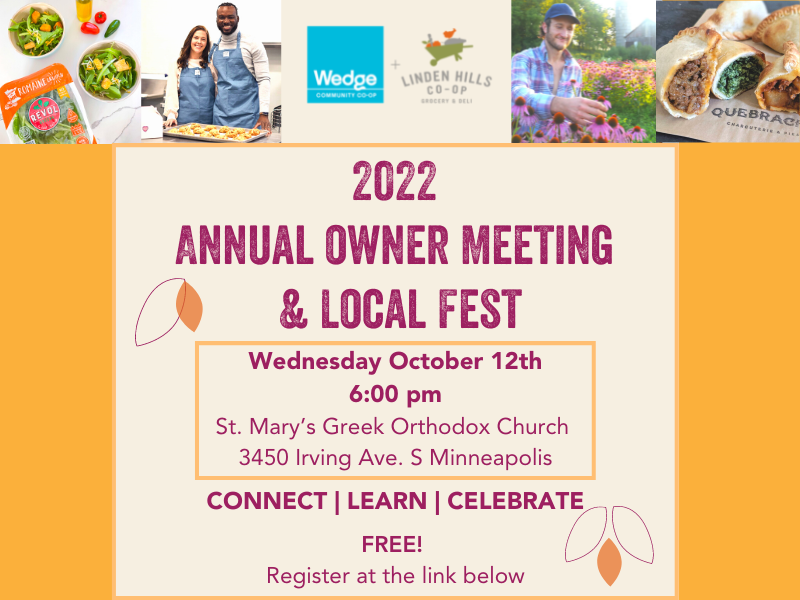 Join us for the Twin Cities Co-op Partners Annual Owner Meeting! We'll begin the evening with a business meeting, announce our board election winners (don't forget to vote, here!) and end with our delicious Local Fest.
Date: Wednesday, October 12th at 6:00 p.m.
Venue: St. Mary's Greek Orthodox Church 3450 Irving Ave S, Mpls, MN 55408
To register, sign up below, visit the Customer Service desk or call the Wedge Co-op (612.871.3993) or Linden Hills Co-op (612.922.1159). Limit two adults per owner number and children are welcome. There is no cost for attending the annual meeting.
Meet locally-loved vendors at Local Fest!
Local Fest is a celebration of our local food community. Taste delicious samples of some of our favorite local products and meet the people who make them.
•3 Bear Oats• Ames Honey• Botanical Lucidity • Equal Exchange • Forage Kombucha • Humble Nut Butter • Love You Cookie • Quebracho Empanadas• Revol Greens• Rose Street Patisserie• Sacred Blossom Tea• Triple Crown BBQ• Baba's Hummus• Winter Goddess Foods
Annual Meeting Agenda
5:30 p.m. – Doors open, registration
6:00 p.m. – Business meeting begins
6:45 p.m. – Local Fest begins
Related Events